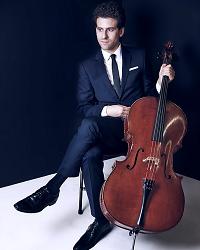 MasterWorks 4
When
Occurs on Saturday March 30 2019
Approximate running time: 2 hours
Venue
Performance Notes
×
Written at the end of his life, Tchaikovsky's Symphony No. 6, the Pathetique, is among the most personal statements in the symphonic repertoire. This autobiographical work is a reflection on a life full of personal struggle and connects with the listener on an intimate level. Hailed as a "superb young soloist" by the New York Times, Nicholas Canellakis, will bring Schumann's Cello Concerto to life. Theofanidis' Visions and Miracles, opens this concert with its joyous and uplifting spirit.
Theofanidis - Visions and Miracles | Schumann - Cello Concerto | Tchaikovsky - Symphony No. 6 "Pathetique"
Tickets: Zone A - $55 | Zone B - $42 | Zone C - $20 | Student pricing availabile Visit the StudentAccess page on the LSO website for student pricing details.